You can earn money online using your mobile. Yes, that's right! 
There are several ways to do this and in this post you will find how you can make money using smartphone.

 
(Disclosure:
 This post contains affiliate links. We may get some referral fee in case you purchase something from that link, without any extra charges from you.)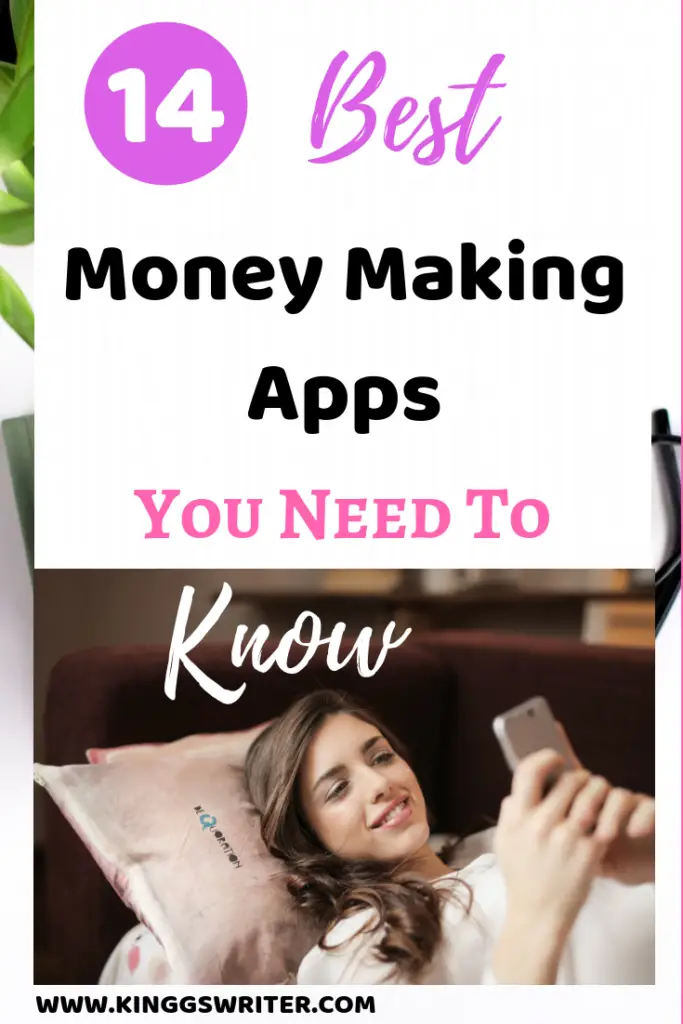 Develop Highly Demanded Skills: Learn Content Writing in 3 Hours!
We all spend a lot of time using our mobile: for browsing, watching videos, listening songs, using social media etc. But what if we can earn money while using the mobile? It would be amazing, for sure. 
There are various ways in which you can make money using your mobile but here we will share 14 apps that will help to earn money smartly using your phone.
Make extra money (over $50 or so) by using multiple apps. Some can even help you earn around $50-$70 dollars fast.

 
These apps are good way to make extra money but remember these cannot be something that you depend upon, for money.
You can use these awesome apps to make money and utilize time spent while using your mobile.
Want the best and most legit way of earning money from home?
Before I share the 14 apps to make money, I want to share that blogging is one of the best and most legit ways of earning money from home.
I have been blogging since 2016 and now have multiple successful blogs in various niches.
 If you want to start your own blog, I would recommend
this resource
to get started and setup your blog for success from day 1.
Money Making Apps to Earn In Your Free Time
1. Foap
This is a unique app which helps to earn money by uploading pictures taken from your mobile.
Sign up for free and upload pictures. There are lots of interested buyers on Foap who want images. You can even earn $5 by participating in pre-set missions.
2. Yumchek
This is an awesome app to earn by uploading your meal receipts. Whenever you upload such receipts of meals, you will receive Rs.5 for each receipt.
You will also earn loyalty points, called "Yumies" and you can use these points to win prizes.
3. PointsPrizes
This website/app pays you to do offers, sign ups, referrals, watching ads, or taking surveys and downloading/installing other apps. Depending on your convenience, you can use this on app or on website to make money.
4. Sweatcoin
Do you like exercising & staying fit? If yes, then this amazing app is going to pay you for it. You will receive cash/ gift cards through the app. Downloadable on both iOS/ android through the official website.

 
5. Cash Magnet
When using the app you would not be required to watch ads or do any task. Simply keep app on your phone & run it. It's a solid passive income application where you're paid.
Suggested Read:
6. Keep Rewards
Get free cash gifts by using Keep Rewards. You are required to perform little tasks and get payments on PayPal.
7. Google Opinion Rewards
By expressing yourself or giving the opinions, you get paid. After reaching minimum cash out, you'll get amount through Paypal.
8. Fetch Rewards
It can be used on every device (including desktop) and it's paid to shop application. it means that after you shop, you can scan the receipts to get cash backs! Reward points could be redeemed at different shopping stores.
9. mCent
 

Another great app to make extra money using your smartphone. To get paid, you'll be required to download apps and test them after installing mCent.
10. Entertainow
Stream videos and get paid. It's so easy, that you would be having fun while making extra money. Minimum cash out is $3, which is low and can be achieved.
11. Smart Panel
It's a popular one and this is because you can increase your earning potential with this app. Its research-based app where you keep it in your phone & make money in your free time.

 
12.

 

Slidejoy
Among the best legit apps to make money Slidejoy could not be forgotten. You have to unlock phone, or take surveys and perform several other tasks shared by app to earn $10 easily.
13. Keettoo
It allows user to create money by watching ads. After installing, you'll get push notifications for watching ads.
14. AppTrailers
Watch trailers or do other little tasks to earn from this cool app. Works on both android/ iOS.
Now that you have seen the top apps that pay, download them and start making extra money in your spare time!
Pin for Later & Share!