You want to start your blog but have no idea about how to get started?
In this post, you will learn everything about how to start a blog and make money from it.
I agree that it could be overwhelming and scary to start your blog. That is why I have created this step-by-step in depth guide that you can follow and setup your blog. 
( Disclosure: This post may contain affiliate links. We may receive commission if you purchase something from our links, without any extra charges from you. Please read the disclaimer for more information)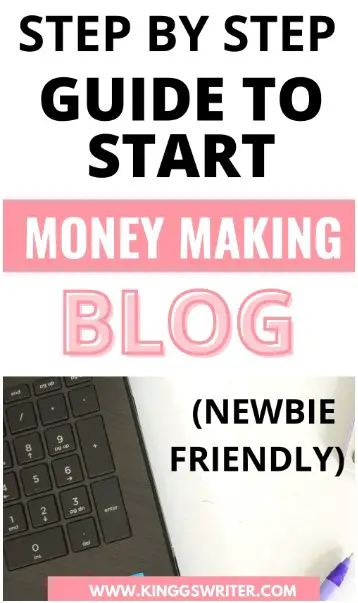 Right Way to Start Your Blog
Yes, that's true. There is a right way to start your blog and this is where most new bloggers make mistakes and eventually they don't make money and quit blogging.
I will show you the right way, but before that; you need to know "Why" you want to start a blog.
There could be many reasons of starting a blog:
•             To start a side hustle and earn
•             To stay at home with kids and make money
•             To support your family with finances
•             To pay off debt or loans
•             To quit job and work from anywhere
•             To travel anywhere and make money online
These are just few among the several reasons as to why people begin a blog. You need to decide why you wish to get started because this reason will keep you accountable and motivated.
Can You Make Money From Blogging?
Some people blog for fun or as a hobby and generally do not make money from it.
However, if you are serious for blogging and want to gain monetary benefits from it, you must choose a specific reason and become serious about blogging.
Also, I must tell you that blogging is not a get rich fast type of thing. It takes time.
Sometimes years to start seeing revenue or profits from blogging. However, if done correctly, blogging could help you live a very comfortable or even luxurious lifestyle.
You will not make $5000 in first month of blogging unless you have some solid blogging or digital marketing experience.
But, it's possible to make $5000 from blogging or even more. It will depend on your blogging strategy and efforts plus few external factors.
Before you begin blogging, you must understand that it demands discipline and lots of work.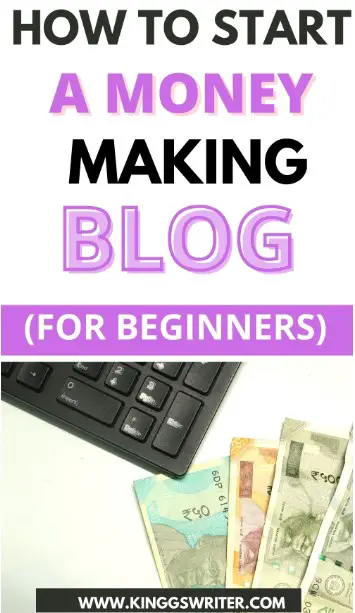 You should not expect to start a blog today and earn $100 tomorrow. If blogging were so easy then every person would be a blogger by now.
I will be honest: if you are not ready to work and dedicate yourself to your blog, then you shouldn't start a blog.
But, if you are sure that you can be disciplined and work real hard then you should start your blog, 100%.
Now let me tell you the right way of starting a blog.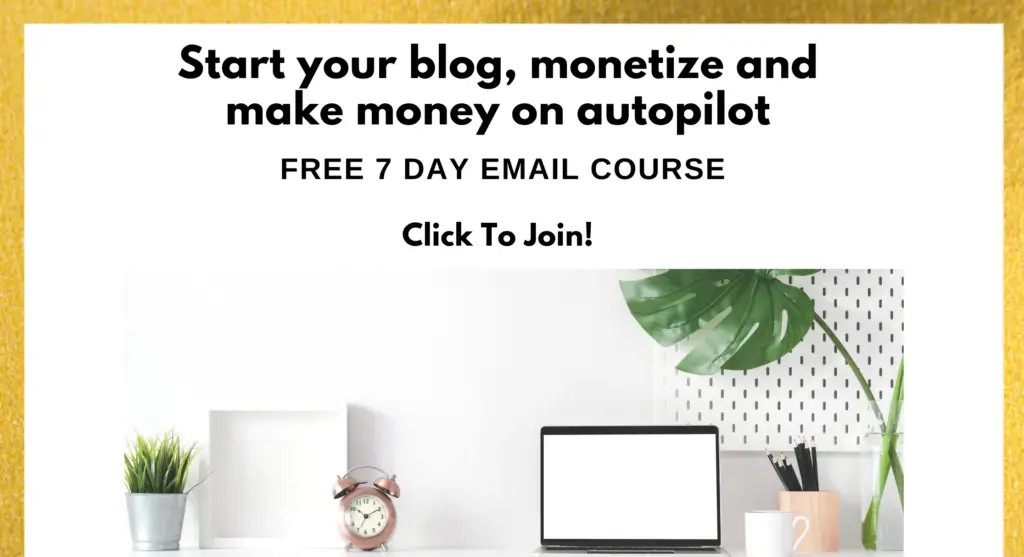 Self Hosted WordPress blog: Set Right Foundations
Most readers ask me, "Why should I pay for a hosting when I can start a free blog using free blogging platforms?"
And my answer will always remain constant, "Because you cannot grow and make money from a free blog"
Let me explain that to you in detail so that you can get into the right blogging mindset before you get started.
There are several free blogging platforms available like blogger or blogspot. You could use them to start your free blog. But their a big catch to almost all of these platforms.
You cannot make your blog super successful by using these platforms.
If you want to take your blog as a business and want to earn money from it, then you must treat it like a business, right from the start.
If you wish to start a hobby blog just for fun, then go ahead with the free platforms. But, if you wish to make money from your blog, then having a self hosted wordpress blog is crucial.
There are many reasons why you should avoid using free platforms:
•             You do not own the content/blog: by using free blogging platforms, you do not have rights over your blog and if the platform wants, they can remove your content or the entire blog altogether. If this happens, you may not have any option, as you do not own free blogs.
•             Companies & Advertisers don't accept free blogs: some affiliate networks, advertising networks and brands will refuse to work with you if you do not have a self-hosted blog. You can earn money by partnering with such ad networks and affiliate networks but if you have a free blog then most of these companies would reject your application right away. Obviously, this means, you will have very less or no options to monetize your free blog.
•             It looks unprofessional: Free blogging platforms offer limited customizations, themes and design. Your blog will look really unprofessional and your readers will not engage with your blog.
•             They don't allow monetization: some free blogging platforms would not allow you to monetize the blog. Even if they do, it could be very limited and they may have control over it.
•             You can't sell it: If you ever wish to sell your blog in future, you cannot do this if you have a free blog as you do not own it.
To recap quickly:
Having a self hosted blog is the right way to start your blog if you wish to earn from it. Self hosted blogs look professional and you can customize everything according to your liking.
You will own the content, the entire blog and have absolute rights over it.
Companies and ad networks will take you more seriously and will be willing to work with you because you have taken your blog seriously by owning it completely and investing in it.
Now you know how to get started the right way. It's time to show you how to start a money making blog.
How to start a money-making blog: step by step guide  
Step 1: Decide The Topic
The first and most important thing you need to do is to select the topic or "niche" of your blog. It's basically a segment within a market of category which aims or targets at specific people.
Writing on every topic and everything in the world will not take your blog to amazing heights. You should focus on writing for one group of people.
For example, if you are a corporate employee and wish to quit your job, you can write on the topic of millennial life and quitting job.
Or if you like fashion and styling, you can write about that.
It's important to first find the niche or the market segment you wish to reach.
To do this you'll have to describe and think about the ideal reader of your blog.
What they could be interested in, what are they struggling with etc.
This will give a very clear idea about who you are writing for and what should you write about.
Also, your niche should be a popular one so that you can have lots of people interested in what you are going to write.
Some popular blog niches are:
Fitness
Personal Finance
Travel
Fashion
Beauty
Food & Cooking
Lifestyle
Relationship
There are many more niches and sub niches that you can choose depending on your interest, popularity and skills.
You can keep your blog's niche specific / narrow (for example, keto recipes only) or you can make it broader (example, food recipes).
If you are stuck at this step, don't worry. You can simply start by writing about the topics that you like and later on narrow the niche of your blog.
Step 2: Choose Your Blog Name
This is an exciting step!
Your blog name would be the domain that people will type to reach to your blog. For example, my blog is named "kinggswriter.com", which is the domain or name of my blog.
These points will help you choose a blog name or domain:
Try to stick to two or three words in the domain. Short names are catchy and attractive
Don't miss spell words as people will be confused and forget your blog name.
Try to choose the name you want with ".com" at end. This is professional and universal and also a standard domain name ending that is easy to remember for people.
If you cant find a good name, you can use your own name as your blog name Avoid symbols, numbers in your domain name
If you have a name decided, then check this free domain checker tool to see if the domain name is available:
Take Quick Action:
Grab a paper, pen and write down all possible blog names that you could think.
Write the topics you'll write about on your blog and some main terms or keywords related to that. (example: for food blog you can write deserts, recipes, cooking, nutrition etc.)
Now start playing with words that you have written and make different combinations.
Come up with those that are short, easy to recall and catchy.
Step 3: Register Your Domain & Hosting
Web hosting company offer you to post or create a website on internet. You can think it as a company that rents you storage space on internet so that you can store and share files, content, information.
As you already know by now that having a self hosted blog is the best thing to monetize your blog.
That's why choosing a good hosting provider is very important. I would recommend Bluehost to all new bloggers who wish to start their own blog.
Why you should choose Bluehost?
You will get a free domain name
Free SSL certificate
Offer excellent customer support
WordPress recommends bluehost
Simple & quick installation process
You'll get free email
Super reliable services
Bluehost is one of the most reliable hosting service provider and offer hosting at very affordable rates.
They offer a Free domain name for your first year, which can save you lots of money when you are just beginning in the world of blogging and don't want to spend a lot.
Also, they offer you the option to start your blog and choose domain later also, if you haven't decided a domain name yet. (Other web hosting companies do not offer this facility)
How to setup up blog using Bluehost:
It is very simple and super quick to set up a blog using Bluehost. Just follow these steps:
1.Click here to go to Bluehost homepage and then click on the big green button "Get Started"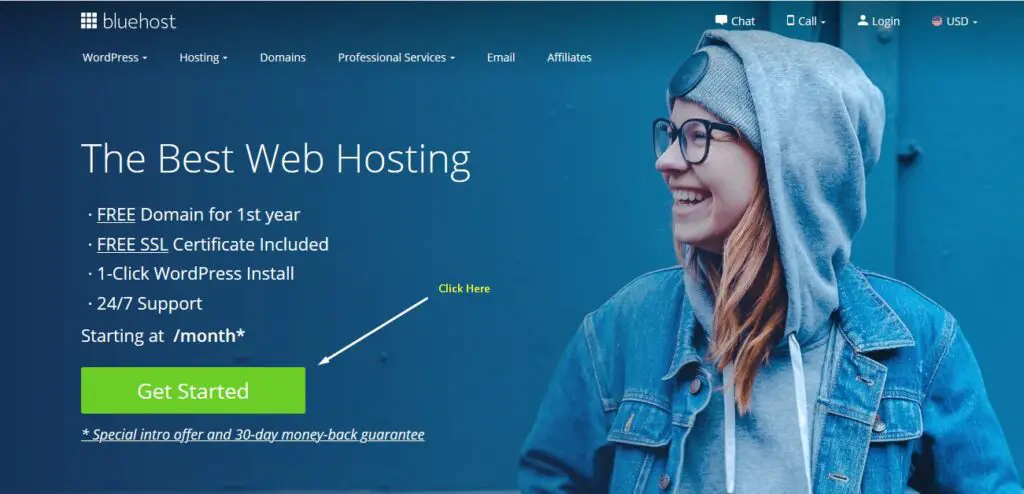 2. Next, choose a plan which suits you and then click on "Select".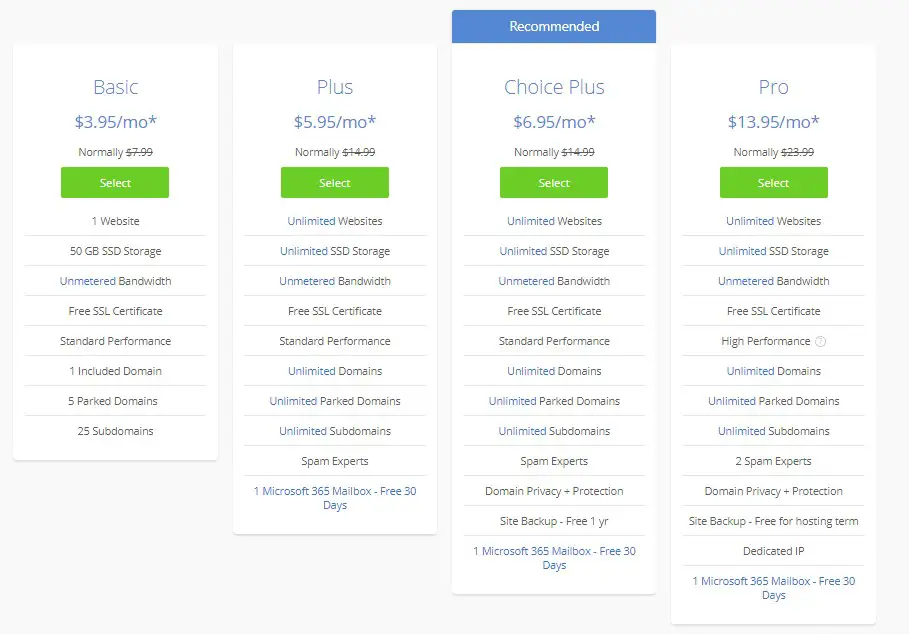 If you are thinking which plan I should choose?
I would recommend you to choose the basic plan. As a new blogger, the bluehost basic plan is sufficient to start. You can choose the "Plus Plan" if you wish to start multiple blogs. Otherwise, the basic plan is good enough.
3. Now set up your domain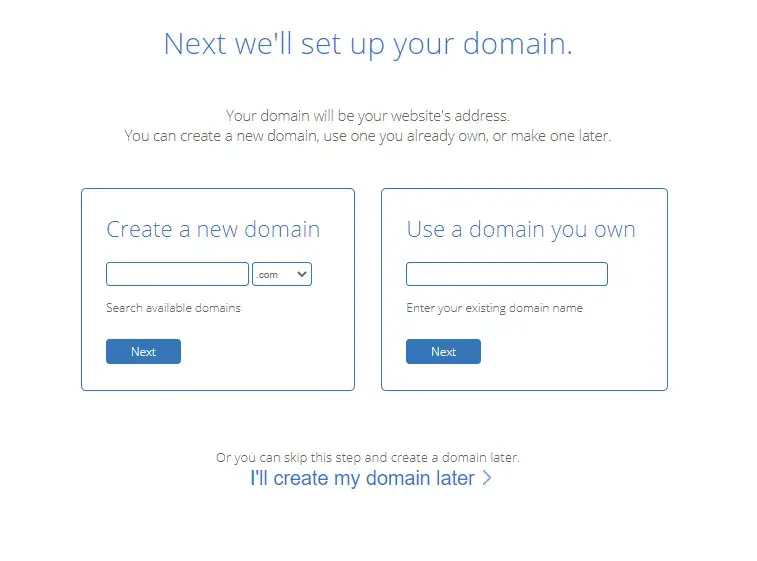 If you have decided your blog name, enter it here. If it's available, you can choose it. If not, you can think of other blog names.
If you can't think of a good domain name for your blog, simply click on "I'll create domain later" and skip this step.
By skipping this step now, you can set up your blog now, and later choose your free domain.
Also this popup may come and you can click this is you can't decide the domain name just yet.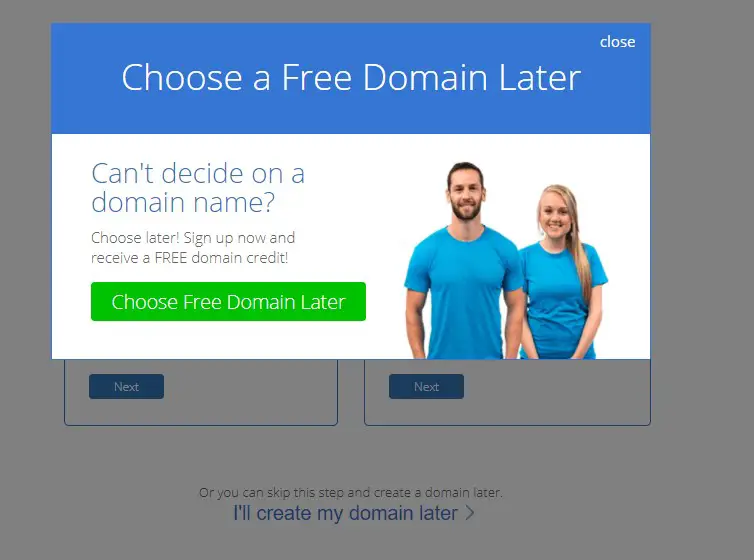 If you previously purchased a domain name earlier, enter it under the "use a domain you own" column to confirm it.
Click next.   
4. Enter your information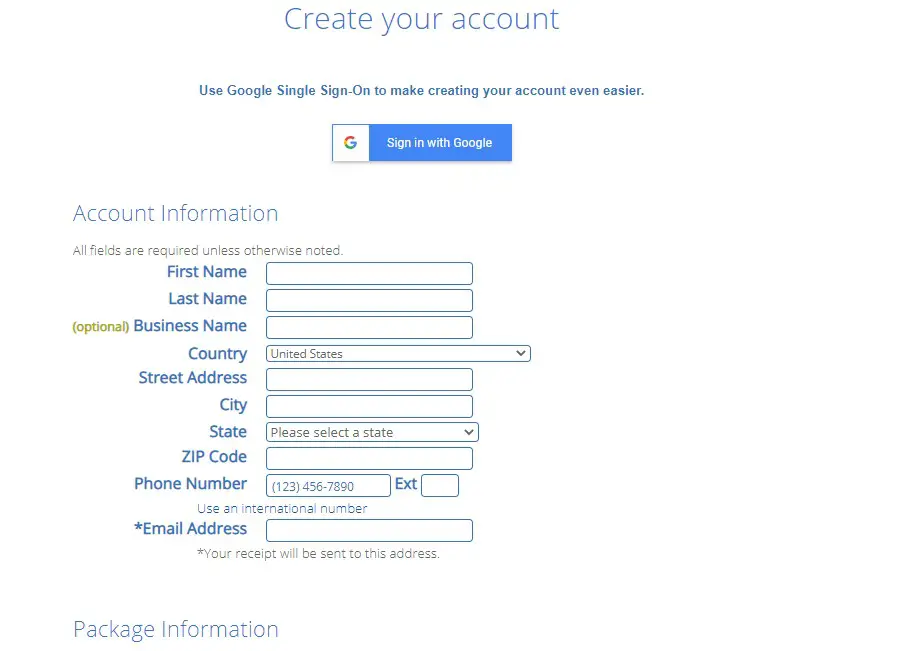 Now, Bluehost will ask for your information. Enter all the details.
5. Choose Your Package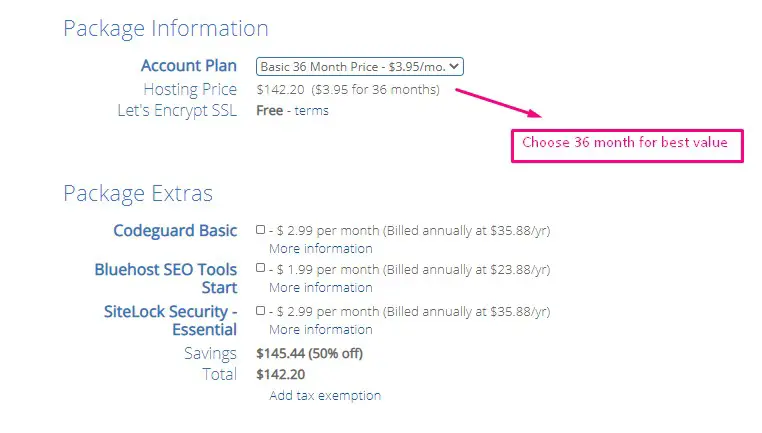 You can choose from 3 pricing options:
1 Year or 12 Month Period
2 Years or 24 Month Period
3 Years or 36 Month Period
You will get the best value if you choose the 36 month because the overall cost of hosting will be discounted to just $142.20 for three years or $3.95 a month.
If you want, you can also choose the services for just 1 year (12 month) and the total amount would be $71.40 or $5.95 a month.
It is totally up to you that which plan you choose, but make sure you go with the one that gives you best value.
Once you fill all details, tick mark the box to agree to terms and then click on the green submit button.
What about the extra packages?
You can choose these if you wish, however, these are just extras. You can also install free wordpress plugins later which will do the same thing as these extra package offers.
6. Install Bluehost
Once you pay the pricing, bluehost will automatically install wordpress on your blog.
What is wordpress?
It's a content management system or platform which helps to manage your blog.
It is world's most popular CMS and is beginner friendly. WordPress is where you will design look of your blog, upload images, write content, and more.
Bluehost will guide you through exact steps to setup wordpress. Once you create your bluehost account and setup wordpress, click on login.
Step 4: Choose a Theme
Once you log into your wordpress dashboard, you'll have to choose a theme. You can choose any of these to start.
If you want to have a more professional looking blog then I would recommend a paid theme from Creative Market as they have some of the best wordpress blog themes. Check them here.
For now, simply choose a free theme as you can change it any time. To change your theme, go to your wordpress dashboard the click on Appearance> Themes.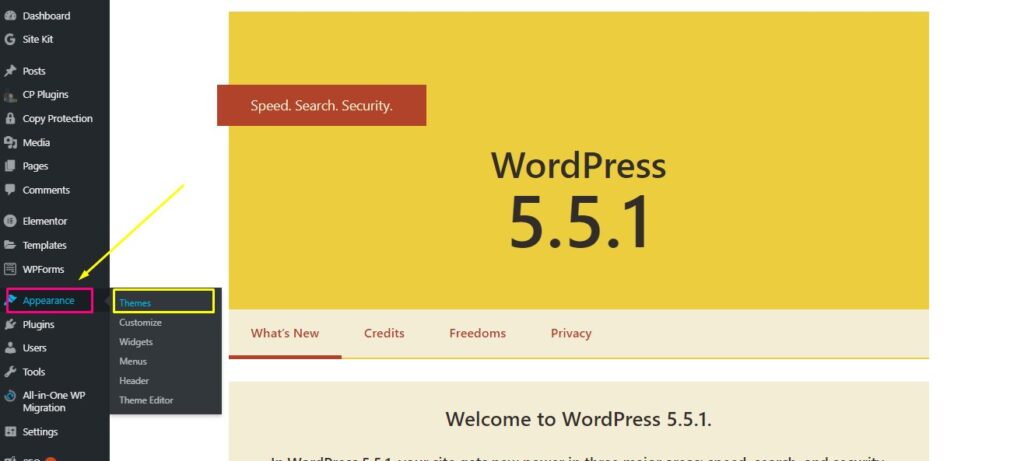 Step 5: Make Important Pages
Now that you have successfully set up wordpress blog, you should make some important pages which are:
About Page
Privacy Policy
Disclaimer Page
Contact Page
All of these pages are essential because if you do not have them, ad networks and affiliates will reject your applications.
Step 6: Start Writing!
Now it is the time to start blogging and write some super awesome posts. Your blog post may not be perfect initially, but you'll learn and also improve as you go.  
Suggested For You: 8 Steps To Write Awesome Blog Post & Get Traffic
How to make money blogging?
Bloggers can make money from various methods like display advertising, affiliate marketing, products etc. I talk about these monetization methods in detail in this post. Please check it here.
Recap: How to start a blog and make money from it
Decide the topic/niche
Choose Your Blog Name
Register Your Domain & Hosting with Bluehost
Choose a Theme
Make Important Pages
Start Writing
Your Next Steps:
Once you have atleast 10 or 15 post, you should start promoting them using social media.
But more importantly, use pinterest for promoting your blog because it's a goldmine for every blogger who wants to get traffic to their blog. 
Read Next>>
Keep posting content and monetize your blog in the right ways.
Make sure to join my free blogging course to learn step by step on how you can start blogging and earn money ( I share my tips and secrets that I have learnt with 3+ years as a blogger)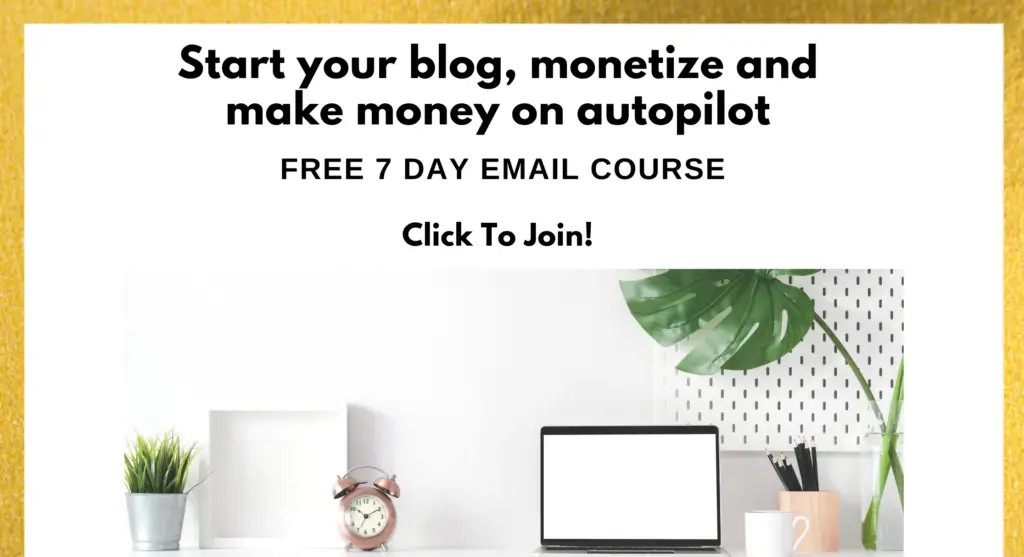 If you want to learn about the next steps and how to make money from your blog, please go to this post where I share in detail about different monetization methods of blogging.
I hope you found this post on how to start a blog and make money from it, super useful.
I have ensured to make this post as detailed and step-by-step so that you can start your blog easily. Follow along and start your blog today.
Please share it on social media, and pinterest and also with your known ones who wish to start a blog.
More Guides Related To Blogging:
How This Blogger Earns $5000 From Her Blogs Monthly
How Angela Makes Full Time Income From Blogging