( Disclosure: This post may contain affiliate links.We may receive commission if you purchase something from our links, without any extra charges from you. Please read the disclaimer for more information)

It's difficult to find best blogging courses which are filled with value and are budget friendly as well. If you want to start a blog then getting the best blogging course is surely better than trying to learn everything on your own.
There's a lot of free information available on internet but we cannot judge which is true. Trial and error method does not go well, if you want to make money blogging.
If you are serious about earning from your blog then you basically have two options:
Trial & Error:
Learn from different free sources on your own and apply it to your blog. But the problem with this approach is that, your efforts may not give results that you are expecting.
Not just this, it will take a really long time to start earning a steady income from your blog. If you have lot's of free time available and you don't care about the results, then you can surely follow this method.
Related Post: Check This Free Tool Which Makes Your Blog Post Free of Mistakes & Errors.
2. Learn From Successful Bloggers:
This is the second option and far more reliable then the first. It's much easier to learn from someone who already knows about it.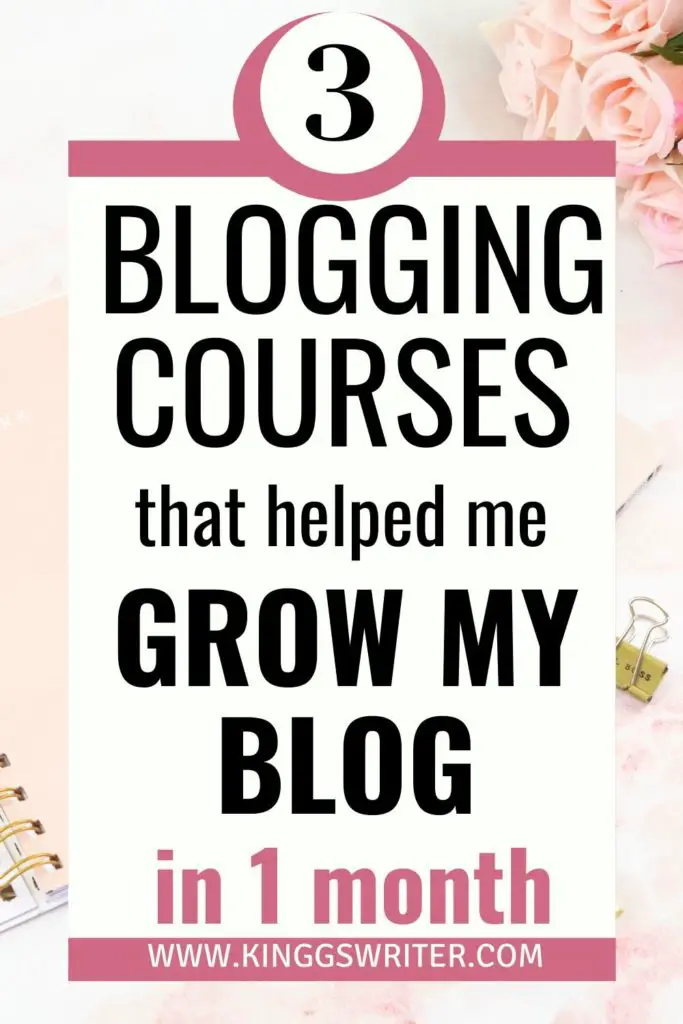 When we enroll in a school, we learn from teachers who already have years of experience about their subjects. They are experts and know everything and that's why they can guide you in the best possible way.
That's exactly how it works in the blogging world.
If you can find a blogging teacher or expert and learn from them, it's surely going to save you a lot of time and guide you in the right direction. The direction that will help you in earning from your blog and not just treating it like a hobby.
That's why, if you are a beginner blogger or just about to start a blog, you should learn from those who have already achieved success with their own blogs.
Trust me on this, because it's better to save time and learn from experts rather then trying to reinvent the blogging wheel.
And even if you are already earning well from your blog, you can still learn from bloggers who are few steps ahead of you and are earning more.
I really wish I would have saved more time ( specifically months) and invested in at least 1 of these courses earlier. Because they truly made a difference to my blogging approach and income.
Here is a list of blogging courses, that I have personally used and found extremely helpful in my blogging journey.
Want to start your own blog? Check my step-by-step guide here to get started.
3 Best Blogging Courses That Are Affordable + Actionable
1. Pinteresting Strategies
Pinterest can be the easiest way to get lots of free traffic to your blog, but only if you know how to use pinterest correctly. I tried to learn about pinterest on my own and tried my own strategies. I got little traffic with them, which was definitely not what I wanted.
That's why decided to invest in Pinteresting Strategies created by Carly, who runs a very, very successful blog and get's more than 2,00,000+ page views from pinterest.
It's one of the most affordable course on Pinterest, ($57 only) and focuses on manual pinning which means you can use her strategies on your own without investing in some scheduler (which costs more than $100+ a year)
I did a lot of research about her course and read so many reviews. (more than 50 I think). Every review that I read, had mentioned something very positive about this course.
So after I was fully satisfied, I decided to go ahead and purchase the course. ( I had been saving up, to buy her course)
There were so many things about Pinterest that I did not know before I read this course. I finished the entire course and started applying her strategies.
It was truly eye-opening for me, when Carly explained how Pinterest works and how we can use it for getting traffic to our blog using her pinning strategy. She truly knows this stuff.
I started noticing traffic spikes after I used her strategies and found that investing in this course, was truly a worthy investment.
If you are struggling to get blog traffic from Pinterest, then this is the number 1 course I can recommend to you. It will make you understand how Pinterest works and how you can get massive traffic, without paying for any scheduler. Check Pinteresting Strategies here.
What I Liked About This Course?
Pinteresting Strategies helped me learn how Pinterest works, and I think that's most important if you want to get traffic from it. Carly has laid down everything in detail and she keeps updating everything.
I really liked the little details she gives about Pinterest SEO and how we can make Pinterest understand our pins. I also loved her pinning strategy which does not ask me to invest in some scheduler. (which most pinterest course will ask you to do)
2. Affiliate Marketing for Bloggers
This is another excellent course from Carly, where she explains affiliate marketing in detail. Affiliate marketing can help you in making lots of money on autopilot, which means you can earn passive income.
I had tried basic strategies like placing affiliate links and banners on the blog to earn commission. But it was not earning me much money. I invested in this course and bought it together with her pinterest course.
Carly gives very actionable steps in her course and not just theory. She has also shared case study that helped me to better understand affiliate marketing. You'll also learn how to use your blog post and your email list to make solid income from affiliate marketing.
This course is priced at $79 and I think it's more affordable then most of the other popular courses on affiliate marketing. Some of them are priced at $200+, and if you are willing to spend less, then I would surely suggest you to go ahead with Carly's affiliate marketing course.
This course is best for beginner as well as intermediate bloggers. She covers those tips that are great for beginners in setting the right foundations. But not only this, her advice can help intermediate bloggers as well, who are struggling to earn from affiliate marketing.
Side Note: I bought both of Carly's courses together because they are available at a discount. Buying them together will cost you $85. But if you decide to buy them separately, then you'll spend a total of $126.
As a reader of my blog, I feel it's necessary for me to share how you can save money.
That's why I bought both the courses together and saved $41. You can choose to buy the course bundle and get both these courses together at a discounted price (just like I did). You can buy both the courses together, using this link for $85.
Or if you want you can buy just the one affiliate marketing course that you need most, at this point in your blogging journey.
What I Liked About This Course?
Carly shares very useful tips that I was actually able to apply to my blog. I already knew how affiliate marketing works, but her course made me understand all the things that I was missing.
She is very straightforward at giving practical advice and their is absolutely no fluff in this course. That's what I liked the most in this course.
3. Profitable Side Hustle Ebook
Angela's "The Complete Roadmap to Building a Profitable Side Hustle" is the third course that I have included in the list of best blogging courses.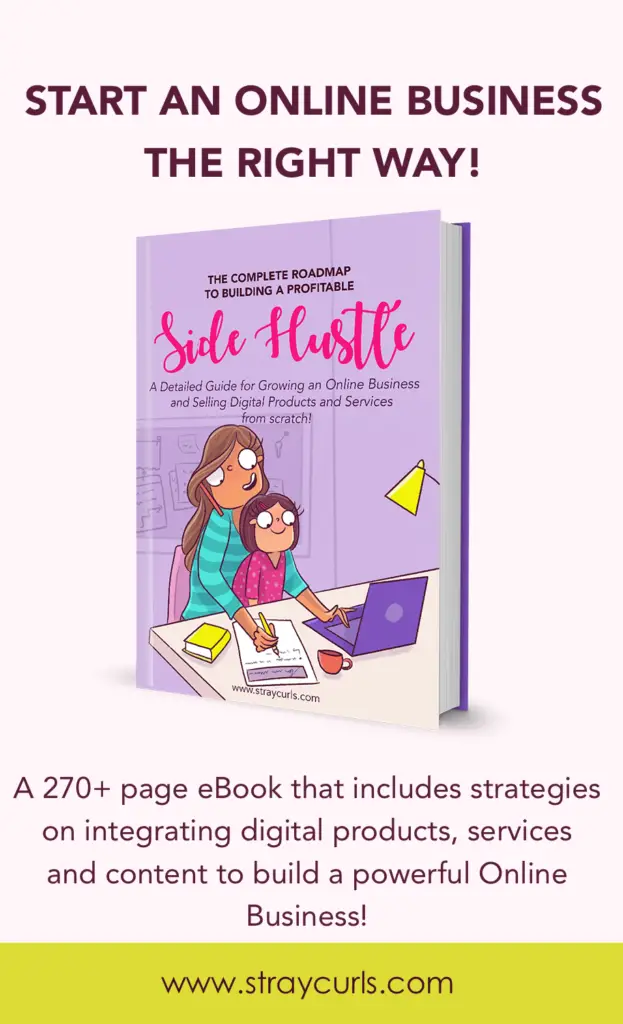 This ebook goes in depth into how you can start a profitable side hustle online by using your blog. If you want to earn from your blog and also sell digital products or services on it, this ebook is a must have.
It's a complete guide for those who are willing to make their blog successful. Angela has shared everything that she has gained from her experience.
And you can definitely trust her advice because she made her blog very successful and earned $3000+ just few months after starting her blog.
Again, just like the previous blogging courses I mentioned, this ebook is really affordable and priced at $49.
You'll learn which type of online business you should start, how to set up your blog correctly, creating content, finding your target customer, adding a shop to your blog, selling products, and earning money on autopilot from your blog.
You'll also get these bonuses with this ebook: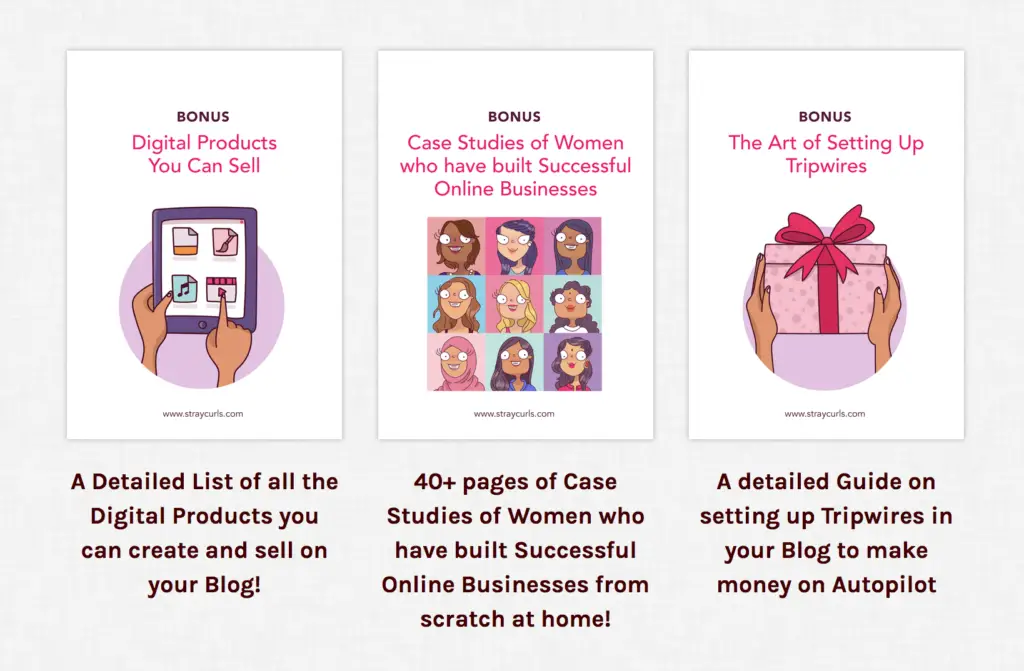 What I Liked About This Ebook?
Angela has filled the ebook with actionable steps that you can simply follow. You'll not have to search the internet for learning how to set up your blog and add shop to it, once you read this ebook.
She gives clear, crisp instructions and guides you properly about what steps you have to take and when. This for very useful for me as she cuts through the fluff and helped me by giving tips straightaway.
Besides this, she is an excellent illustrator, and you'll find cute illustrations throughout the ebook, that keep you hooked.
I would happily call her ebook, value packed + visually appealing.
If you are bored of plain boring ebooks, then you'll definitely find this ebook as one of the most interesting ones.
Related: How Angela Makes Full Time Income From Her Blog While Working From Home
I really hope that you liked my list of the top 3 best blogging courses. I would definitely recommend you to check them and see how they can benefit you in growing your blog.
Even if you cannot invest in courses right now, you should consider saving for them and buying them when you can. Because learning from expert bloggers can truly give a boost to your blog's growth and make it successful.
My Favorite Blog Resource: I use grammarly to make my blog posts free of mistakes and grammatical error. I highly recommend you to check grammarly because it can automatically detect the mistakes and make the content flawless and professional. Sign up for a free grammarly account here!
Please share this post with those who want to know about the best blogging courses.
I would also appreciate if you save this pin to Pinterest and share with your friends on Facebook.
Not have a blog yet? Follow my detailed, step-by-step guide to start your own money making blog.
Suggested Posts For You:
>> 10 Places to Promote Your Blog Post and Get Instant Traffic
>> The Ultimate Guide for Achieving Blog Goals for Beginners
>> 8 Steps To Write Awesome Blog Post & Get Traffic
>> 3 Blogging Mistakes That Beginners Make and How to Avoid them?